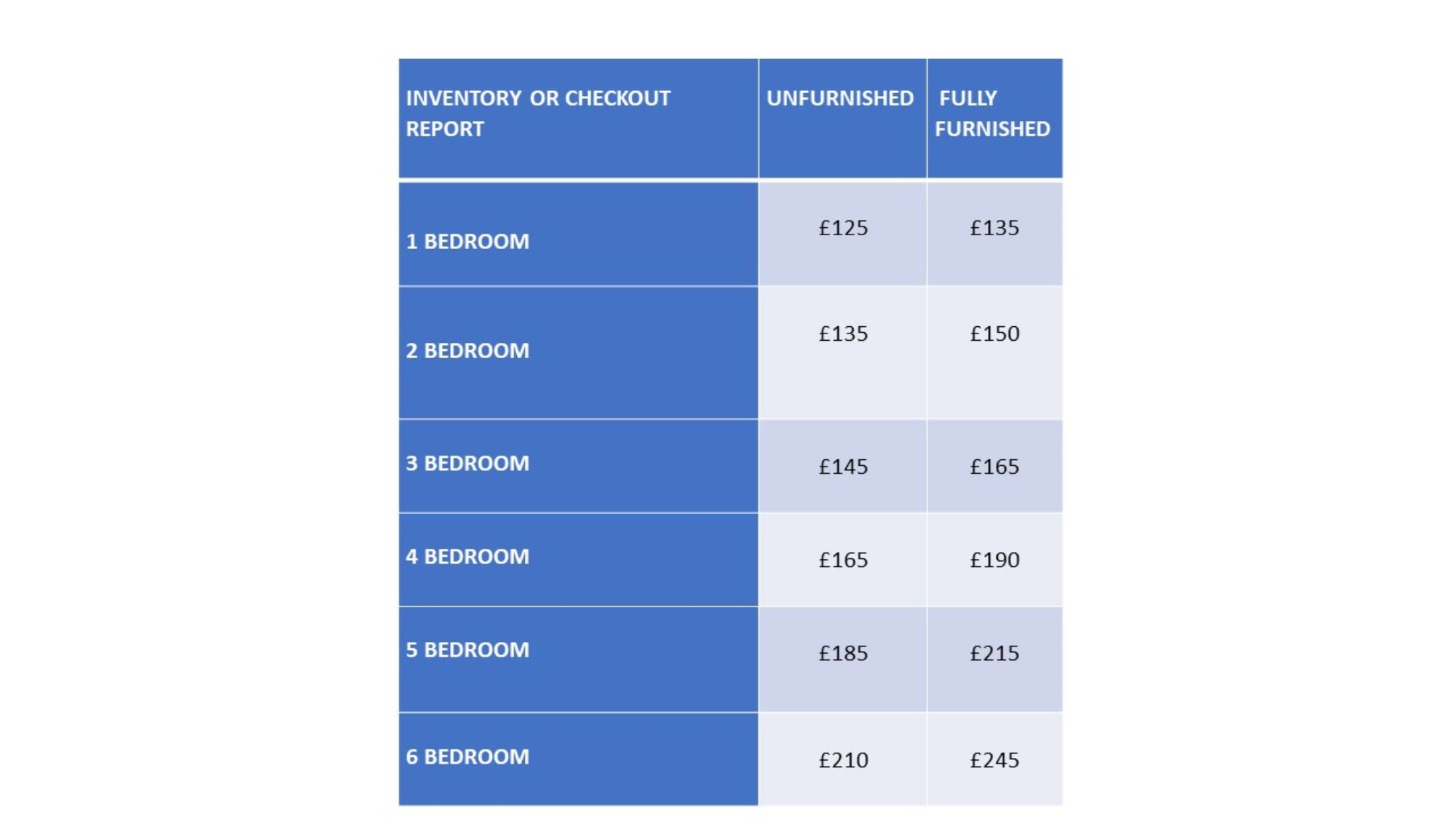 Prices allow for up to two reception rooms, one kitchen and two bathrooms / ensuites or W.Cs, 1 hallway and 1 set of stairs and landing. Additional rooms and garden will be charged £10 per room or £15 if furnished. Additional hallways and set of stairs and landing will be charged at £5.
Please note we have a minimum site visit charge of £120.
Where a property is very old or has excessive period features a 10% extra charge may be added.
Unless agreed in advance documents will not be released until payment is received in full.
Additional charges may be made for kitchens with large amounts of utensils and crockery in furnished properties or excessive furniture and accessories.
Lofts and cellars will not be included unless converted to liveable space with secure access.
Prices may not include some garages, cellars, sheds or outbuildings if above average size.
Our reports, unless separately negotiated, do not include a detailed inventory of plants, trees and shrubs in properties with gardens.
Parking costs in excess of £1 will be added to the final bill.
Where keys are to be picked up and returned a £5 charge per 10 miles from origination after the first 5 miles will apply.
Additional time charges at £45 per hour will be applied where keys are to be picked up and /or delivered to Agents within town centres where on site parking not provided.
Additional charges may apply for evening/weekend or Bank Holiday bookings.
Additional charges may apply to check outs using inventories other than our own.
No cancellation fee if advised within 10 hours of scheduled booking, otherwise we reserve the right to charge the quoted fee for the job.
£45 per hour waiting time may be charged on delays in access and check in and out.
£25 will be added to central London post coded properties
Fees are due on receipt of invoice, if payment is outstanding after 10 working days, a £45 admin charge will be added, for each chargeable visit and thereafter £60 each for each subsequent calendar month.
Preferred payment method by Bacs transfer, cheques subject to £10 handling charge.
Additional fees will apply if we are required to give evidence in the event of a dispute or court proceedings.
Commercial, Snagging Inspections, Insurance and Divorce Settlement Inventories please Contact us for a quote